Back to overview
No more wake-up calls: AMR is now the leading cause of death worldwide
25.01.2022
1.3 million deaths due to antibiotic-resistant bacteria
No more wake-up calls: AMR is now the leading cause of death worldwide
It is time to act and prevent the deadliest pandemic of all time
A first comprehensive analysis of the global impact of antimicrobial resistance (AMR) estimates that bacteria that have become resistant to antibiotics directly caused 1.3 million deaths in 2019. However, the global burden associated with drug-resistant infections assessed across 88 pathogen–drug combinations in 2019 was a staggering estimated 4.95 million deaths. This is the shocking report of the study published on 20 January 2022 in The Lancet medical journal and funded by, among others, the Bill & Melinda Gates Foundation and the Wellcome Trust. According to the authors, more people have died due to antibiotic-resistant bacteria than HIV/AIDS or malaria combined, thus making AMR the "leading cause of death worldwide".
While AMR poses a threat to people of all ages, young children were found to be at particularly high risk, with around one in five deaths attributable to AMR occurring in children aged under five years. These data add to a 2016 Lancet article reporting the tragic estimates of 58,000 Indian babies dying each year from antimicrobial resistance, while according to WHO around 200,000 newborns die each year because of severe infections that are resistant to available drugs. This is particularly relevant for low- and middle-income countries (LMICs) which are particularly hit by this global health threat, though higher-income countries also face alarmingly high levels of AMR. Deaths caused directly by AMR were estimated to be highest in Sub-Saharan Africa and South Asia, at 24 deaths per 100,000 population and 22 deaths per 100,000 population, respectively. AMR was associated with 99 deaths per 100,000 in Sub-Saharan Africa and 77 deaths per 100,000 in South Asia. In high-income countries, AMR led directly to 13 deaths per 100,000 and was associated with 56 deaths per 100,000. The following three charts and graphs, directly taken from the research paper, show the death incidence of AMR by Global Burden of Diseases Region, by infectious syndrome, and by pathogen.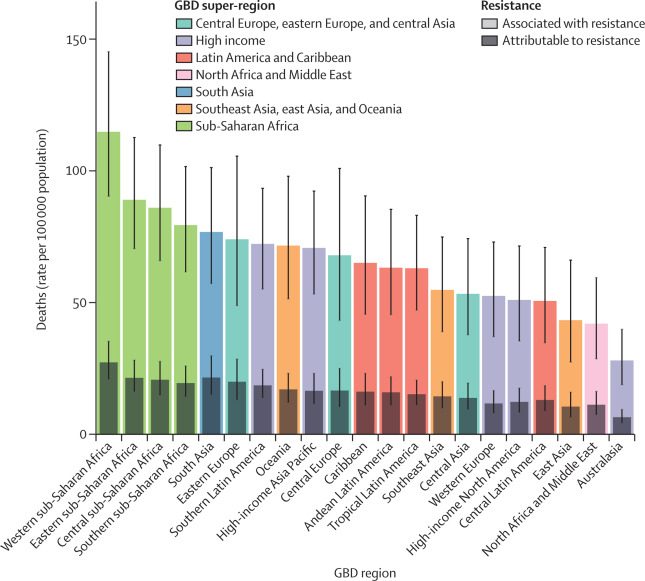 Figure 1-All-age rate of deaths attributable to and associated with bacterial antimicrobial resistance by GBD region, 2019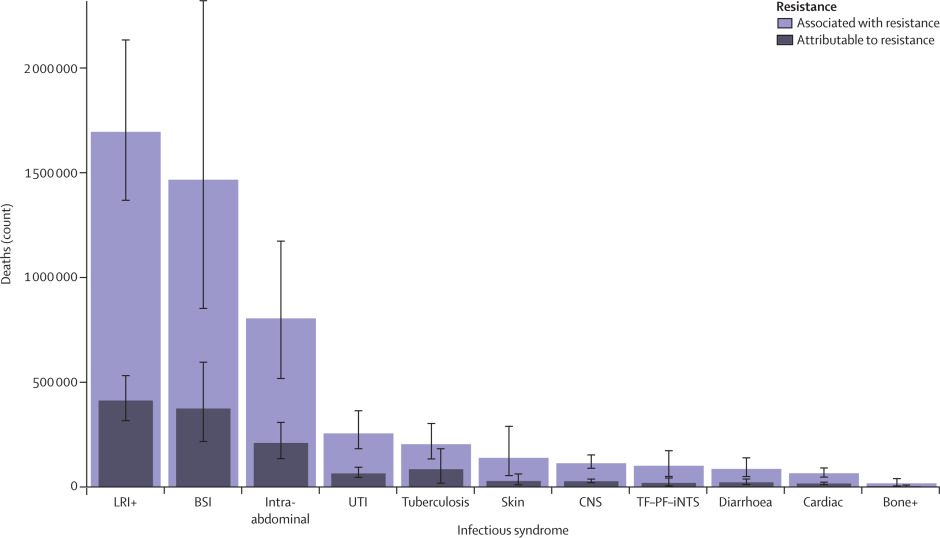 Figure 2-Global deaths (counts) attributable to and associated with bacterial antimicrobial resistance by infectious syndrome, 2019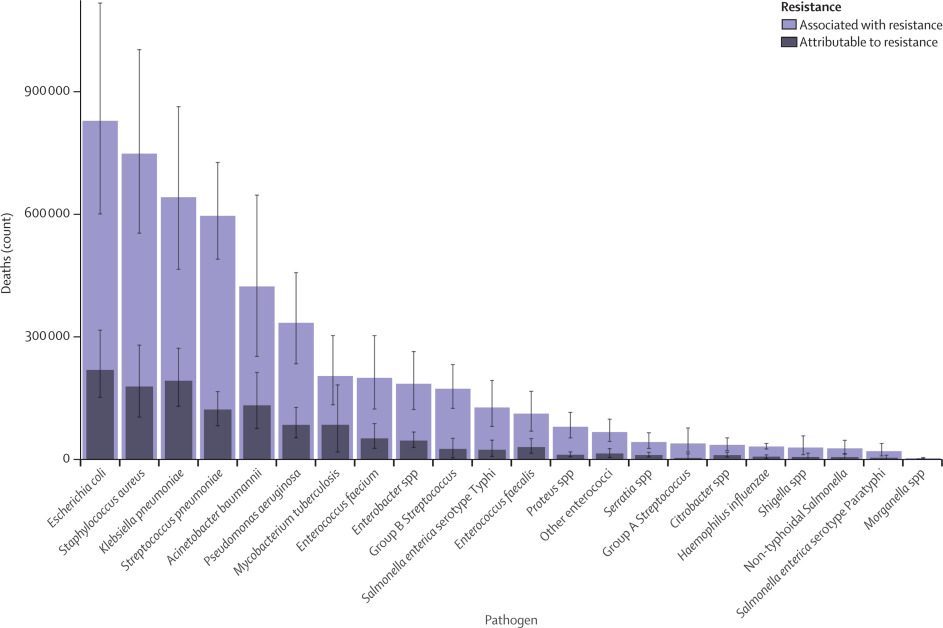 Figure 3-Global deaths (counts) attributable to and associated with bacterial antimicrobial resistance by pathogen, 2019

Nonetheless, critically important antibiotics and antimicrobials that are reserved for the treatment of certain serious infections in humans are still used in EU food-producing animals. On 15 September 2021, a Motion for Resolution drafted by Member of the European Parliament Martin Häusling (Germany, Greens) was put forward to limit such antibiotics overuse in the European farming sector. However, the Motion for Resolution was rejected by a majority of 450 votes.
This failed effort by the European Greens to put a brake on the overuse of antibiotics also shows the ever-strong lobbying of European veterinary associations to continue with current potentially dangerous practices in animal husbandry. This was already known to the general public thanks to stopAMR.eu (please read the related article here). This indeed points towards what European Commissioner Stella Kyriakides warned about during a conference hosted by the Portuguese EU Presidency on 25 March 2021, namely that the next pandemic may be caused by antimicrobial resistance.
It is indeed Ms Kyriakides in a 19 January 2022 article in cooperation with Bill Gates who acknowledges the need to build on COVID-19 experiences and innovations to better prepare and prevent next pandemics (such as an outbreak of totally-resistant bacteria). According to their editorial, this is the reason why the Gates Foundation and the European Commission strongly support the Coalition for Epidemic Preparedness Innovations (Cepi). Originally created by a coalition of governments and organisations in 2017, after the Ebola crisis in West Africa, Cepi's task is to ensure future epidemics are addressed more quickly, for instance by accelerating vaccine development and helping them roll out more rapidly and fairly to countries in need.
Like Cepi, EU recently created the Health Emergency Preparedness and Response Authority (HERA) "to encourage international collaboration on expanding global vaccine production, solving problems such as supply chain bottlenecks, supporting clinical trials and research into innovations, and helping low- and middle-income countries grow their regulatory and manufacturing capacity". It is indeed one of HERA's core tasks to put "global preparedness at the centre of the international agenda". However, in the Commission Communication of 16th September 2021 establishing HERA, one may notice the almost-complete absence of preventive measures against the AMR pandemic that, according to the Financial Times, is a "silent tsunami". The new 6 billion Euro HERA effort, while being established as a Commission service with a risk of becoming deeply 'bureaucratized', does not even refer to the real cause of AMR: irresponsible and continued overproduction, overdistribution and overuse.
While the European Commission can be praised for finally acknowledging the need for a structure to address issues such as strategic dependencies and pandemic prevention and preparedness, it is now evident that a new and effective strategy against AMR must be put forward. Already in March 2021, the PA International Foundation provided a proposal to the European institutions on how this could be accomplished under the guidance of the Council (please refer to links one and two for the full text of the PA International Foundation proposal). Current measures are deemed insufficient to prevent such a threat. The Foundation argues that – like preventing wars by preparing for them ('si vis pacem, para bellum') – pandemics such as AMR require optimized measures of preparedness to prevent them.
Pandemics in the past were caused mostly by ignorance. Pandemics in the future may mostly be caused by a lack of prevention. The EU has now the knowledge, the tools and the moral duty to avoid preventable deaths caused by antimicrobial-resistant bacteria and protect the health of its citizens, if only for the experience of the past two years with COVID-19.
By Maria Pulina, Project Manager, PA International Foundation