Back to overview
Getting the point across with social media and giant bacteria
17.02.2021
In the midst of the Covid-19 pandemic, showing a great commitment to 2020's World Antimicrobial Awareness Week, many countries have conducted a wide range of activities to raise awareness about AMR.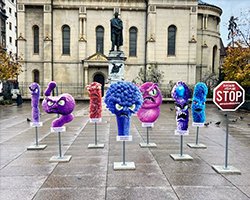 In Lithuania, films on AMR were shown on public transport.
In the Croatian capital Zagreb, people handed out information dressed in giant bacteria costumes.
In Romania, more than 50 articles appeared in traditional media and a social media campaign was conducted in Romanian. An online debate was broadcast live and also featured an audience survey that gathered responses from more than 45,000 people –showing that 15% of respondents still believe that antibiotics treat viruses.
Georgia had a raising awareness team giving presentations to primary health centres.
In Bulgaria, three different films were produced and disseminated in tandem with a social media campaign.
Greece launched a social media campaign, in cooperation with youth partners (700 Greek medical students), reaching over 30,000 users.
The Ukrainian Medical High School recorded and published five video lectures on the rational use of antibiotics for medical professionals and students. The lectures covered various topics, from the basics of antimicrobial stewardship to using antibiotics rationally during upper respiratory tract infections.
In Kazakhstan, an information campaign was organized among the medical and pharmaceutical community, specialists in the field of agriculture, and the general public, resulting in television and radio coverage, as well as live events.
In Tajikistan, a well-attended event was held for health-care workers in the paediatric infectious diseases hospital.
Turkmenistan delivered important messages to the public by supporting the translation and printing of campaign materials.
Five types of posters in Russian and Turkmen were printed and distributed in regional health facilities.
WHO Europe, 15 February 2021