Back to overview
WEBINAR: Disease outbreaks and the EU's precautionary measures
29.05.2020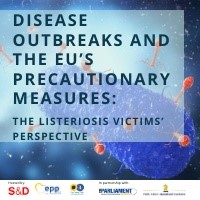 According to both EFSA and ECDC the threat of Antimicrobial Resistance (AMR) is rapidly rising. So is the pressure on the EU's public health system. There is hardly anyone left to disagree that it is paramount to find new ways to treat bacterial infections. 'Bacteriophages' or 'Phages' are one key alternative. These are the natural predators of bacteria! They can be used to treat both human and food-borne bacterial infections. This notably includes one potentially lethal pathogen: listeriosis.
However, the development and use of phages in the EU has been severely hampered by the lack of a regulatory framework. On the basis of prior European Parliament calls for such legislation, a webinar was organised by The Parliament Magazine in cooperation with the PA International Foundation. Ms Sarah Wiener (MEP, Greens, Austria), Ms Sirpa Pietikainen (MEP, EPP, Finland) and Mr Marc Tarabella, MEP, S&D, Belgium) addressed this topic with the most renowned experts in the fields of phages, regulations and ethics.
An article on the event was published in the Parliament Magazine.
For our Dutch readers, more information on phages and listeriosis in Europe can be found here: VMT
---
The Covid-19 crisis has indeed captured Europe's public attention. It has directed it on public health policy making as never before. It has uncovered areas of strategic and immediate shortfalls – both in terms of local European production and of immediate availability to those in need. However, the ongoing pandemic is not only a wake-up call for viral threats. It is understood by many experts as a precursor of what is to come when unstoppable bacteria start spreading.
Today, listeria bacteria can be stopped. But aren't. Numerous outbreaks of listeriosis in most Member States over the last years killed or disabled thousands of victims. In Summer 2019 Spain, the Netherlands and Germany mourned listeria deaths and miscarriages while creating lifelong disabilities.
"We must find and use alternatives [to antibiotics], said Sarah Wiener. "In the context of a global pandemic, bacterial infections, like listeriosis can become even more problematic because our health system is under high pressure…..We could effectively reduce the rate of listeriosis occurrence by 70 to 80%. I think this is a very interesting option for prevention of the disease and prevention is absolutely vital in the case of listeriosis."
The efficacy and safety of phages for numerous applications have already been proven and "not using them to prevent illness, long term injuries or even death is unethical", warned ethics expert Michael Kuhn (Senior Advisor for Ecology & Sustainability and Education, Culture and Youth Policy of COMECE, the representation of the Catholic Church in the EU). He argued that it is paramount that a new regulatory framework is developed in the EU not only to ensure that we have access to such technology, but also to prevent other parts of the world (Russia, China, US) from furthering their lead in the field and deciding on the rules of the game. For Mr Spyros Pappas, former Director General for Consumer Policy at the European Commission, "authorizing the use of Listex P100 is more a matter of political will than of having a legal basis. This was illustrated recently in a speech by European Commission President Ursula von der Leyen who referred to quick authorizations for a vaccine for Covid-19."
---
Member of the European Parliament Sarah Wiener (Greens/EFA,AT)
"I think we should not lose out on the potential benefits of such technologies because of a missing regulatory framework"
"covid-19 took us by surprise and we are paying a tragic price for that. However, issues like Listeriosis and increasing AMR are already well known. We must do more to prevent outbreaks of food born listeriosis, and if there is an alternative available that does not depend on the use of antibiotics, we should investigate this option further and not let bureaucratic obstacles stop us as in the case we see today, so I think this is very important."
Member of the European Parliament Sirpa Pietikäinen (EPP, FI)
"If you can prevent Listeria contamination, if you have new technologies and knowledge, why don't we use them?"
"I'm a very great supporter when we have a good scientific evidence for this kind of a biological defense [as opposed to chemicals] because it is more natural. It evolves like the other side [referring to the arms race between phages and bacteria]. I am not scared to believe [in this rather] than just using chemical solutions. So I am very happy to be part of this"
"There's a growing awareness and interest in the Parliament to learn more about this subject. To learn the right avenues we need, and what kind of a specific phage regulation. Do we need to go and first have approval of a certain phage use. What kind of broad road map do we need to make this an addition in human medication and to compensate certain medications in some cases and how can this be a part of the antimicrobial resistance agenda."
Prof Dr Frank Devlieghere (Department of Food Microbiology and Preservation, Ghent University)

"it is not possible by only applying good hygienic practices […] to guarantee the absolute absence of listeria monocytogenes."
"every 48 hours, up to 50% of all bacteria present here on the Earth are killed by phages. So, phages are naturally abundantly present in nature and they are there also to reduce bacterial populations here on Earth."
"phages are harmful to one specific bacterium and harmless to all the other bacteria. So, they have a very specific target"
Mr Willem Paul de Mooij (Editor-in-Chief, VMT Magazine, The Netherlands)
"We receive many signals from industry regarding the immediate use of phages, against Listeria or other pathogens, both to protect the consumer and the producer itself" … "Indeed, we see that it is virtually impossible to avoid the Listeria bacteria, even in the most hygienic and safest production facilities."
"industry really longs for a bit of transparency on the subject [of phages]. There is no clear and convincing answer from the EU why phages are not still permitted. Industries are afraid to take steps by itself and they are dependent on the national authorities"
Mr Spyros Pappas, former Director General for Consumer Policy of the European Commission
"It is shocking [referring to listeriosis], in particular if one thinks [of the possibility] of an event or an outbreak of Listeriosis nowadays in parallel to the coronavirus pandemic. You can imagine how catastrophic it would become"
Drs Michael Kuhn, Senior Advisor for Ecology & Sustainability and Education, Culture and Youth Policy of the Commission of the Bishops' Conferences of the European Community
"The ethical point of view supports the use of the product [Listex P-100] because it does less harm. It does less harm to the environment than the alternative. So from this point of view it is desirable to use it."